10 Horse Racing Movies Based on a True Story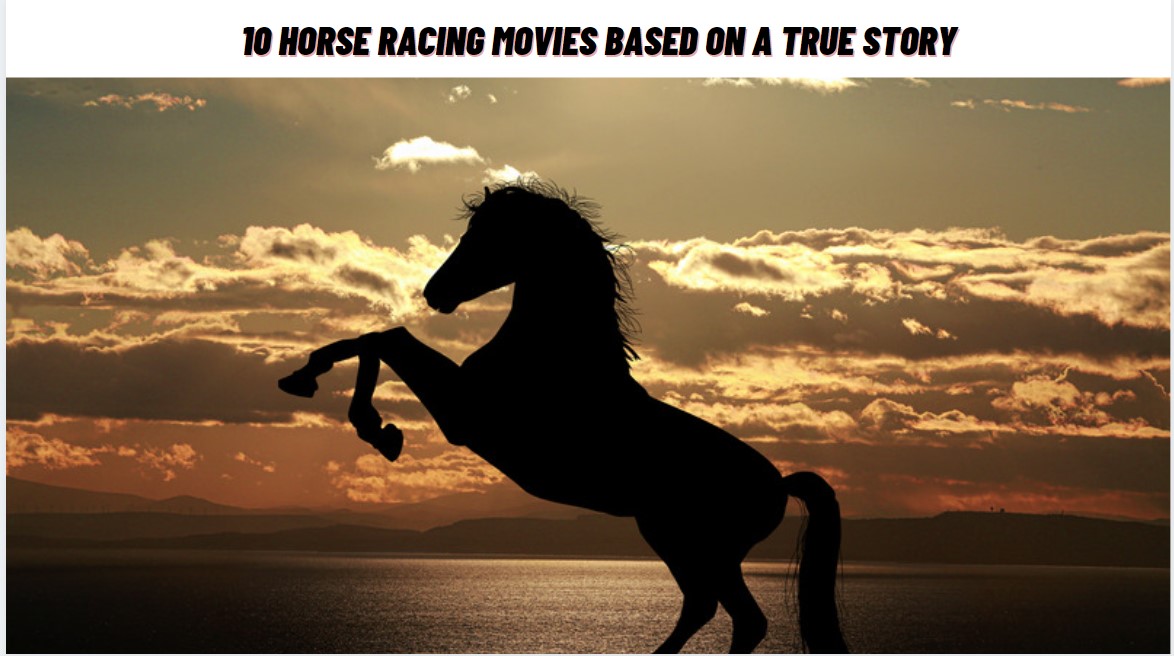 Horse racing is a great source of entertainment, a past time and an income source for many. Horse racing has been engraved in the human mind for centuries and it has taken different forms and shapes. The movie industry has also contributed to promoting horse racing in its own way. There are different people involved in this sport and they have been portrayed from fictional to real stories but in this article, we will take about 10 of the best horse racing movies based on a true story
There have been numerous well-known, renowned races and legendary horse riders whose stories have grabbed the hearts of millions of people and have captivated them for ages. Making their stories into films is a method to preserve their memories while also bringing the narrative to a broader audience, where it transcends cultures and people who are not very fond of the stories of horse racing or their culture doesn't promote it, they also get aware of it. For when you have a peaceful day and want to watch something pleasant and uplifting, here is a list of horse racing movies based on actual stories.
10 of the Very Best Horse Racing Movies Based on a True Story
The movies on horse racing aren't as common as that on other sports but surely more marketing and a better taste in movies can change this as they are by far better than many of the cliched movies that are being made on other sports.
Seabiscuit (2003)
A horse racing movie based on a true story is incomplete without this great movie based on the famous undervalued horse known as the Seabiscuit. The horse was weak and small thus it didn't get the plaudits the other horses got. But Seabiscuit had a formidable bond with its jockey, Red Pollard. Toby Macguire, well known as playing Spiderman played the lead character of Red Pollard. The film tells us how the Seabiscuit rose to fame.
The film got nominated for many awards but managed to bag 2 awards. One of them was the ASCAP Film and Television Music Awards where it got the award of the top box office films and also won an award for its outstanding cinematography at the 2003 American society of cinematographers awards.
Hidalgo (2004)
This is a true adaptation of a story about a man and his horse. The Hidalgo is a mustang, a free spirit horse that is ridden by Franklin Hopkins and they are part of a famous wild west show.
They are very famous and their duo had done some formidable tricks to amuse the people, but thus they are called the world's greatest endurance horse and rider. To keep this title and to prove themselves, they are asked to dive into the ocean of fire, which is a 3000 miles race across the merciless Najd desert.
The conditions are harsh, and the competition is tough, but Hopkins rallies from behind to win the race, despite nearly dying of dehydration and contemplating killing Hidalgo to end his misery. The picture grossed $108.1 million worldwide, and screenwriter John Fusco received a Golden Spur award for his work on it.
Secretariat (2010)
A large budget, an outstanding premise, and a strong cast culminated in a decent, but not great, horse racing film but still, the flaws are not major enough for you to skip this movie as the pros outweigh the flaws, Secretariat is played by his great-grandson Trolley Boy, Eddie Sweat, Secretariat's groom, is played by Nelsan Ellis, Penny Chenery Tweedy, Secretariat's owner, is played by Diane Lane, and Secretariat's trainer Lucien Laurin is played by John Malkovich.
The movie is about the horse, Secretariat and Disney took the initiative to tells its story. The horse is a great breed and in 1973 it won the triple crown ending a drought of over 25 years.
Secretariat recounts the story of Penny, a woman navigating the world of horse racing, which is dominated by males. She is also balancing family duties while attempting to keep her family stable.
Penny is a cunning woman, with great control over her nerves. The horse is her best friend and she thinks that he is going to be with her forever. She trained her with the help of Lucien and it turned out to be a success. They always sensed something special about Secretariat.
Lucien always wanted to retire in peace but Penny managed to bring him on board, and that is how the trident developed a great tie that carries the movie on its back, and horse racing movies based on a true story doesn't get better than this on an emotional level.
Miracle of the White Stallions (1963)
This is not a movie that the current generations would be aware of and you won't find it very easily. The movie is available on YouTube if you want to watch it.
The movie is about Nazis who are in working on their evil plan in Austria and they have these stallions who they save in the war. The movie was made by Disney and thus it is not very widespread, unlike some other classic movies that they have produced, and for obvious reason, winks!
The movie has elements of being a war film and it shows a real-life accident of Col. Podhajsky played by Robert Taylor. He is in charge of the famous Spanish Riding School somewhere in Vienna.
When the film opens, the Nazis are losing the war, and Podhajsky is struggling to safeguard this extremely rare breed of horses…an Austrian national treasure in many respects. To make matters worse, the higher-ups will not allow him to evacuate the horses to the countryside because they do not want to admit how awful the conflict is. This film is about his attempts to save the creatures and maintain this tradition and, thankfully, the real-life Podajsky was present to ensure the tale was accurate.
Despite a sluggish start, this movie is truly vintage Disney and well worth your time. The tale of the Lipizzaner stallions and Col. Podhajsky, the man who sacrificed all to rescue them, should be known to everyone. The stallion's departure from Vienna towards the conclusion of WWII, as well as the fact that General Patton and the 3rd Army were significantly involved in their rescue, is thrilling and has nearly mythical dimensions. To the film's credit, the spectator ultimately becomes engrossed in the Colonel's mission and begins to experience awe as random chance and pure serendipity converge to rescue the Lipizzaner breed.
50 To 1 (2014)
A list of horse racing movies based on a true story shouldn't be without the real-life racing story Mine That Bird. 50 to 1 tells us the tale of cowboys from New Mexico who under rare conditions qualify for the Kentucky Derby. This is an underground tale and the movie has Calvin Borel, who isn't an actor by profession but plays himself as the rider of the Mine That Bird while there are other famous stars like Christian Kane in the movie.
Jim Wilson has done a great job with casting and the movie shows that. The movie has everything in it, laughter, singing, and sorrow. The movie follows what happened in the 2009 Kentucky Derby where an absolute nobody won the derby and that nobody was the horse, Mind That Bird. The journey is of its jockey who never gave up on it.
In my opinion, this is an excellent film for the entire family! A great movie to watch while relaxing on the couch. An exciting film with an outstanding cast and team that will leave you speechless. It transports you to another place and, most of all, it makes you feel wonderful. I have watched a lot of horse movies, but this one takes the cake. I was very affected by this genuine story! I also enjoyed the music!! Most of the time. I highly suggest this fantastic film to everyone. It is a must-see film!! If you haven't seen it yet, you absolutely must!! So settle in, unwind, and enjoy the trip!
Let It Ride (1989)
Let it ride is a movie about gambling on horse racing and it has an element of comedy in it, in fact, it is a comedy movie. The characters in the movie have done a great job and it is clearly inspired by true stories. It has Jay Trotter, Richard Dreyfuss, and above all Teri Garr, and you just can't miss them as they had formed a perfect triangle that makes the audience glued to their seats to this day.
Jay has a gambling addiction and swears to his wife that he will stop. That appears to do It anyway until he runs across his pal Looney, a cab driver like Jay.
This is one of my favorite "lost" late-80s comedies. It boasts a fantastic ensemble of character performers that flawlessly support the actual star of the picture, Richard Dreyfuss ("Trotter"), who pulls out all the stops in his comic arsenal to display great comedy throughout this short film. This film begins slowly, then picks up the pace and doesn't let up until the thrilling finale, which mimics the real-life sensation of wagering on a horse race.
The delight I receive from watching this is from all of the smaller characters' interactions throughout the day. The "Looney" character is the constant failure as the best buddy who can't seem to catch a break, despite the fact that it kicks him in the teeth. When Trotter wins on the sure-thing bet in the first race, he asks Looney, who didn't bet on the sure-thing, who he favors in the second race – and immediately wipes that horse off as a failure right in front of the person… Even though I've seen the movie a dozen times, it still makes me laugh out loud.
This film was forgotten since its intended audience was the same individuals who avoid going to the movies and instead go directly to the racetrack. What a pity. This film deserves a place in our comedic landscape for the charm, simplicity, and pleasure it generates along the way as Dreyfuss brings to life a loser who understands, while it's happening, what it's like to strike a winning streak and enjoy the ride the entire time. This is an all-time comedy classic.
Champions (1984)
John Hurt plays the great jockey, Bob Champion in this movie from the 80s. Bob was a victim of testicular cancer back in the days and at that time it was not as easy to diagnose and treat as it is today and for that, he had to remove his beloved organ from his body but despite this, he won many accolades. The movie follows his struggle to the top and this movie almost won the Golden Bear award.
Sporting dramas in which the underdog prevails over the odds have always been popular with moviegoers. . The film's style is fairly traditional and workmanlike, yet it tells such a fascinating narrative.
A fantastic film, probably one of the greatest in the previous 50 years. I have Excellent performance, production, screenplay, drama, and realism. It's hard to believe that this picture didn't win every prize in 1985. I feel bad for anyone who hasn't watched this movie. It's a work of art, and John Hurt is a genius. It's a stunner, and it's based on a true story. It's a fantastic film that I hope people rediscover. It's the story of a jockey and a horse who triumphs in the face of adversity.
Shergar (1999)
The movie follows the kidnapping of a horse by the name of Shergar, who has a high value. The movie has elements that are far from true events but hey, even though the famous Titanic movie was not the true depiction of reality so we can surely make peace with Shergar doing the same. I have one suggestion for you though, don't research the real events surrounding Shergar and watch the movie.
A solid horse movie, not outstanding, but entertaining, and a wonderful reminder of the real Shergar, who needs to be remembered. Because the narrative takes place in Ireland, there are many beautiful landscapes and local scenes. The horse in the role of Shergar is amazing. A regular boy-girl bond exists, as does a wise Grandfather. It was great to see Ian Holm in his role as a tinker.
Phar Lap (1983)
The true story of an Australian thoroughbred who became a champion thanks to the assistance of a local stableboy.
A good horse racing narrative, especially one based on true events, always catches my interest, and this is no exception. Phar Lap was a well-known New Zealand racehorse. This was another horse in the mold of Seabiscuit that defied the odds to attain glory. I think he just didn't get much press outside of New Zealand. Rob Leibman, who plays the film's most unlikable protagonist (though he does have a few nice moments), is the most intriguing actor in the cast. Outside of the horse, the star of the picture is Tom Burlinson, Phar Lap's best buddy and the only nice person in the film.
Although most Americans had never heard of the actors, they were incredibly convincing. It was impossible not to fall in love with the lovely little horse, and I found myself pulling for him every time he raced. The film will have you engrossed and on the edge of your seat. Horse racing movies based on a true story don't get as excited as this one.
Walk. Ride. Rodeo. (2019)
A brave young woman who is determined to return to competitive rodeo months after suffering a life-threatening spinal cord injury. An uplifting film with no heavy-handed religious or feminist themes. Perhaps because it is a true story, or because of a skilled actor, but this is a believable narrative that succeeds in being motivating for everyone, regardless of having any interest in horses.
The music in the movie with the country touch goes well with the majority of the movie but there are instances where you feel the songs could have been toned down. The character development is lacking too in the movie, which needed special attention looking at the premises of the movie. Overall a good watch but there is a reason it is the last on our list. Horse racing movies based on a true story from the NetFlix age are a rarity but this movie does justice to it.
The Bottom Line
Horse racing is a sport that has a lot of money involved. The betting companies, the local betting associations, and overall the whole industry of horse racing have been a source of income for many people as well as an opportunity for entertainment. There have been cases of great horses out there in history, who have achieved amazing feats with their owners or jockeys. So these were our picks for horse racing movies based on a true story.