Bangbet Casino Review- Top Bonuses for 2023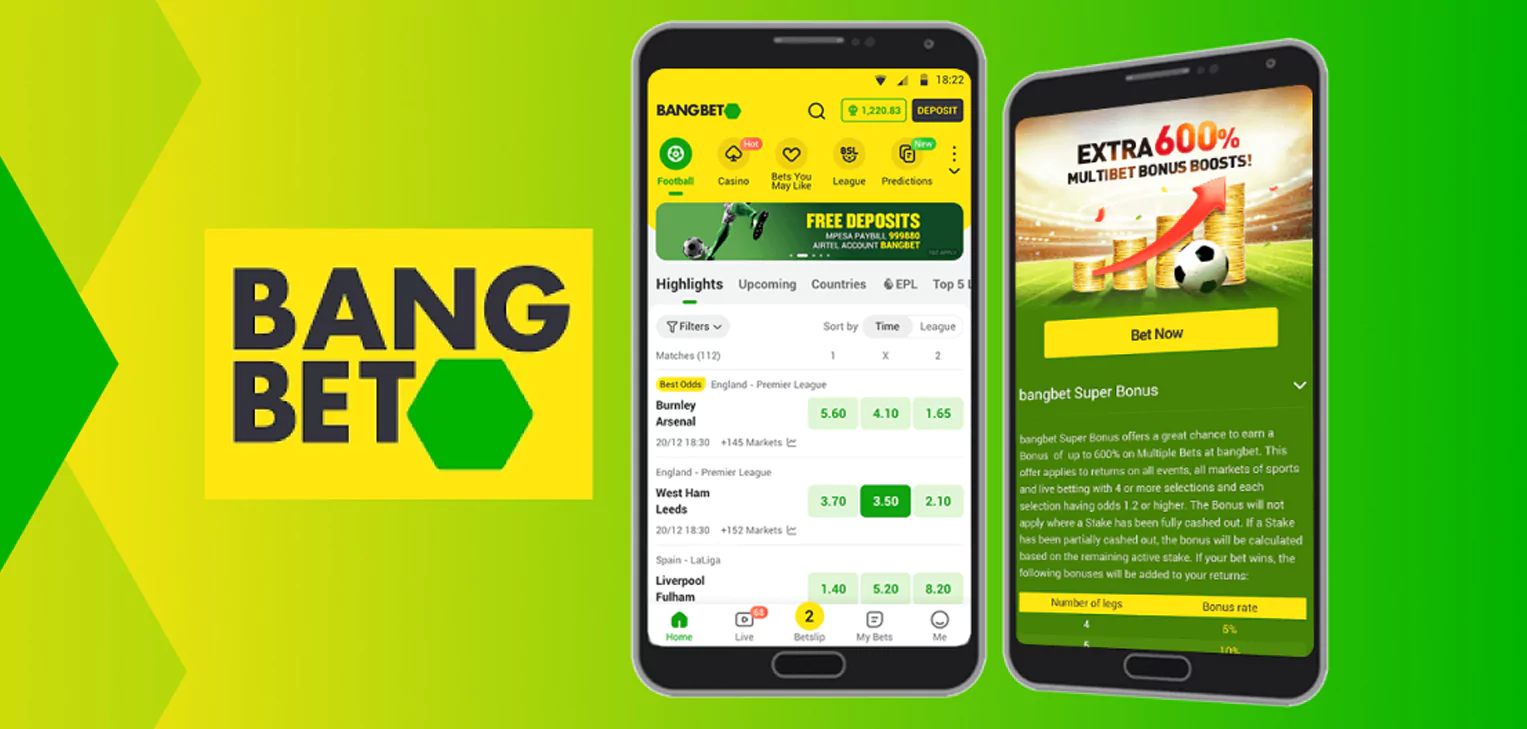 In the vibrant world of online casinos, Bangbet stands out as a top casino destination for both avid bettors and enthusiastic gamers in Kenya. Boasting a plethora of enticing promotions, a comprehensive sportsbook, and an impressive array of casino games, Bangbet Casino offers an unmatched experience.
With their commitment to swift deposits and withdrawals, players can indulge in their favorite pastimes without any hassle. Operated by Rabow Co. Limited, a reputable company registered under Kenyan law, Bangbet Casino holds a coveted license from the Betting Control and Licensing Board of Kenya (BCLB). Prepare to embark on an exhilarating journey into the realm of online gambling with Bangbet Casino.
Seamless Registration: Joining Bangbet Casino Kenya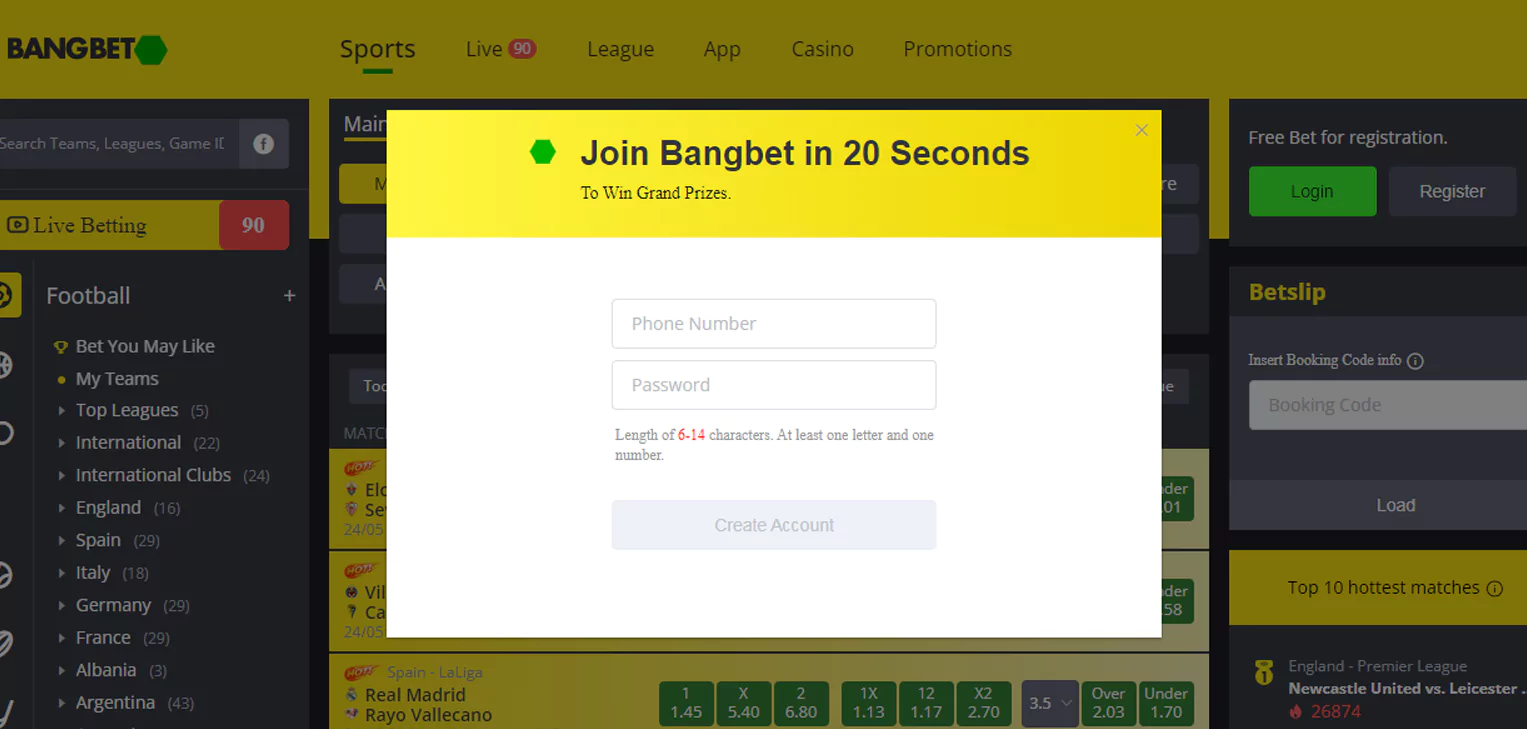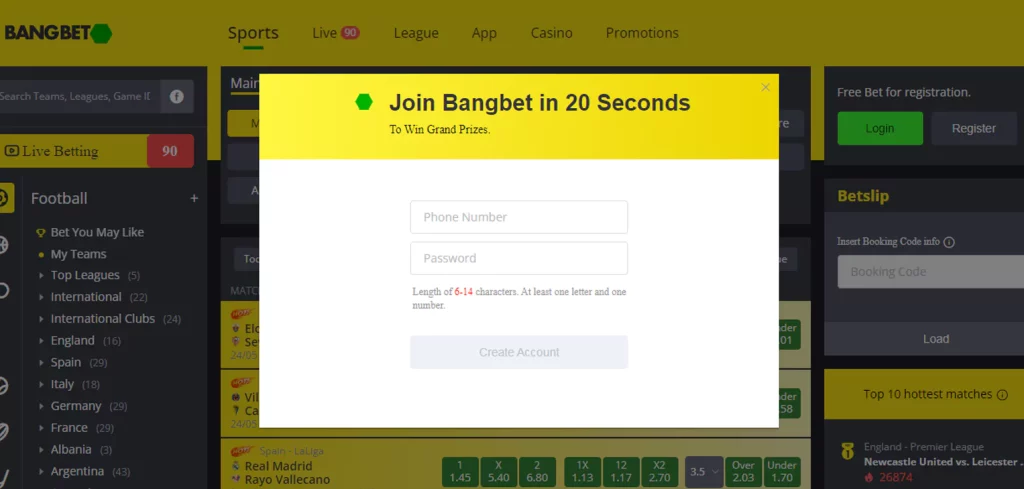 Embark on an exciting journey at Bangbet Casino Kenya by creating your own account. The registration process is designed to be effortless, allowing you to quickly immerse yourself in the thrilling world of online gaming. Let's explore the various registration methods available, ensuring you find the one that suits you best.
To begin, locate the prominent green "Register" button positioned at the right-hand corner of the site. Clicking on this button will initiate the registration process. Enter your mobile number and create a secure password. Upon completion, you will receive a confirmation text message, verifying that your account has been successfully created. It's important to note that registering via the mobile version or app follows the same straightforward steps.
Alternatively, you can register by sending an SMS with the keyword "bangbet" to 20829. In response, you will receive an SMS containing your unique username and an initial password. We recommend changing the password immediately after logging in to enhance the security of your Bangbet account.
For those seeking another avenue, Bangbet Casino Kenya offers the option to register via USSD. Follow these simple steps to complete the process:
Open the phone's dialing interface and enter *852#.
Press the dial key to proceed.
If it's your first time dialing this number, you will automatically land in the registration interface. Your mobile phone number serves as your registration number. Reply with "R" to initiate the registration process.
Upon successful registration, a randomly generated password will be provided. It is essential to record this password and modify it promptly to safeguard the security of your Bangbet account.
In the future, when you dial *852# again, you will be automatically logged into your existing account associated with your mobile phone number.
Experience the thrill of Bangbet Casino Kenya by seamlessly registering and gaining access to a world of captivating games and exciting promotions. Choose the registration method that suits you best, and get ready to embark on an unforgettable gaming adventure.
Unleash the Thrills: Bangbet's Bonuses and Promotions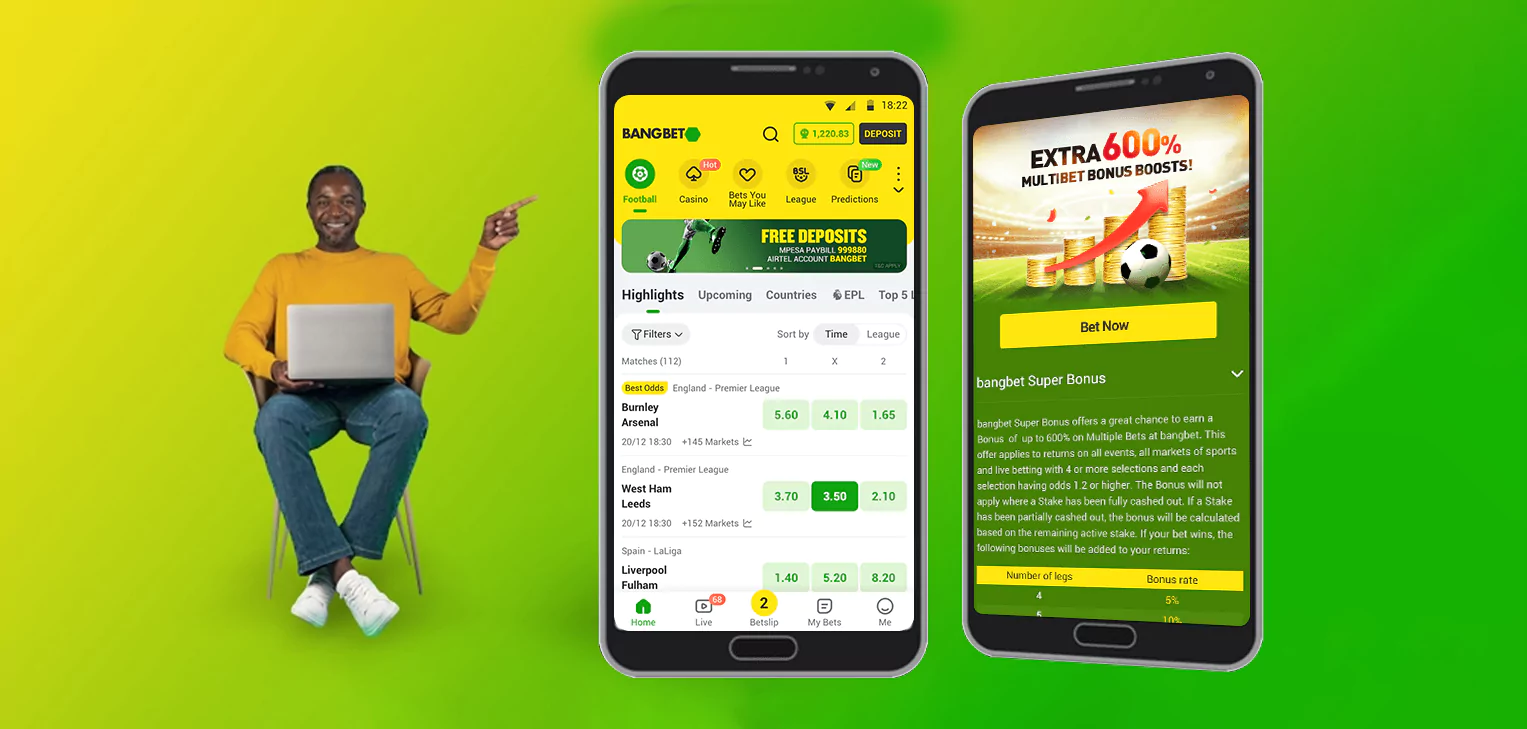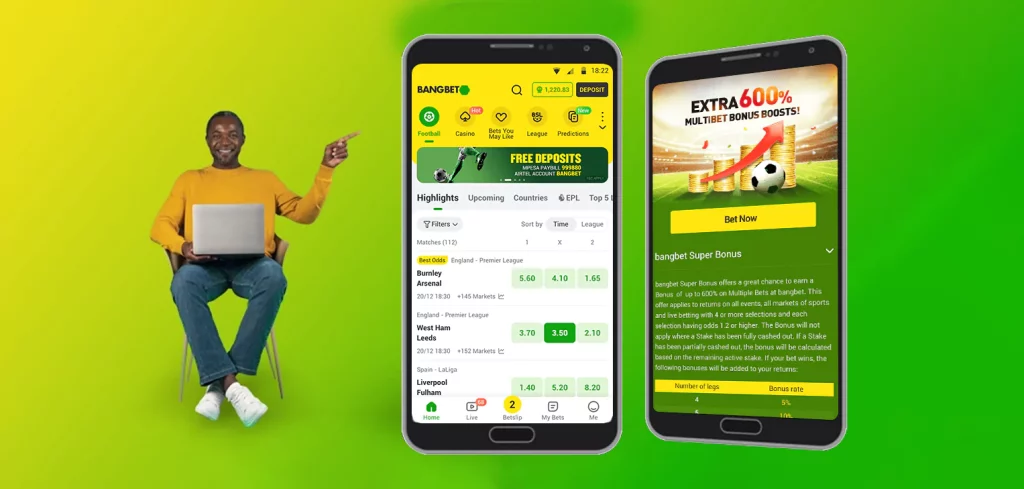 While Bangbet may not offer free bonuses for desktop users, the realm of bonuses and promotions comes alive for Bangbet mobile users. Simply access the Bangbet Kenya website through your phone's browser or download the dedicated app to unlock a world of enticing offers. Let's dive into the exciting array of bonuses that await you.
Firstly, by downloading the Bangbet mobile app, you instantly receive a generous 100 KSH bonus as a warm welcome.
Venture into the realm of daily rewards with Bangbet's Cash Box promotion. Here, a tantalizing prize of 1200 KSH awaits, ready to be claimed. Simply invite friends to join Bangbet, make a deposit, and indulge in thrilling gameplay to seize the Cash Box bounty.
Prepare for an exhilarating journey with the Spin and Win promotion. Every day, collect Bang points, which grant you the opportunity to spin the wheel and win up to a staggering 10,000 KSH.
Unleash the power of deposits with the Bangbet 10% cash bonus promotion. Choose from the enticing selection of reward boxes, make the required deposit, and engage in exhilarating slot games to accumulate bonus funds.
It's important to note that Bangbet's promotions and bonuses are ever-changing, ensuring a dynamic and thrilling gaming experience. To stay up to date with the current offerings, we encourage you to create an account and explore the captivating world of bonuses and promotions at Bangbet Casino Kenya. Unleash the thrills and seize the opportunities that await you at every turn.
Immersive Features of Bangbet's Casino Website and Mobile App
Step into the world of Bangbet Casino through their sleek and user-friendly desktop website. The vibrant yellow color scheme, coupled with eye-catching green buttons, sets it apart from traditional online casinos. With a minimalist design, the main menu presents only the essential categories, allowing you to navigate effortlessly with a single click. The website's simplicity ensures a smooth user experience, free from overwhelming elements. Whether you're loading pages or engaging with games, everything operates seamlessly, ensuring uninterrupted enjoyment of your favorite casino activities.
In addition to their desktop website, Bangbet offers a mobile version and dedicated app, which come highly recommended for a multitude of reasons.
Bangbet's mobile app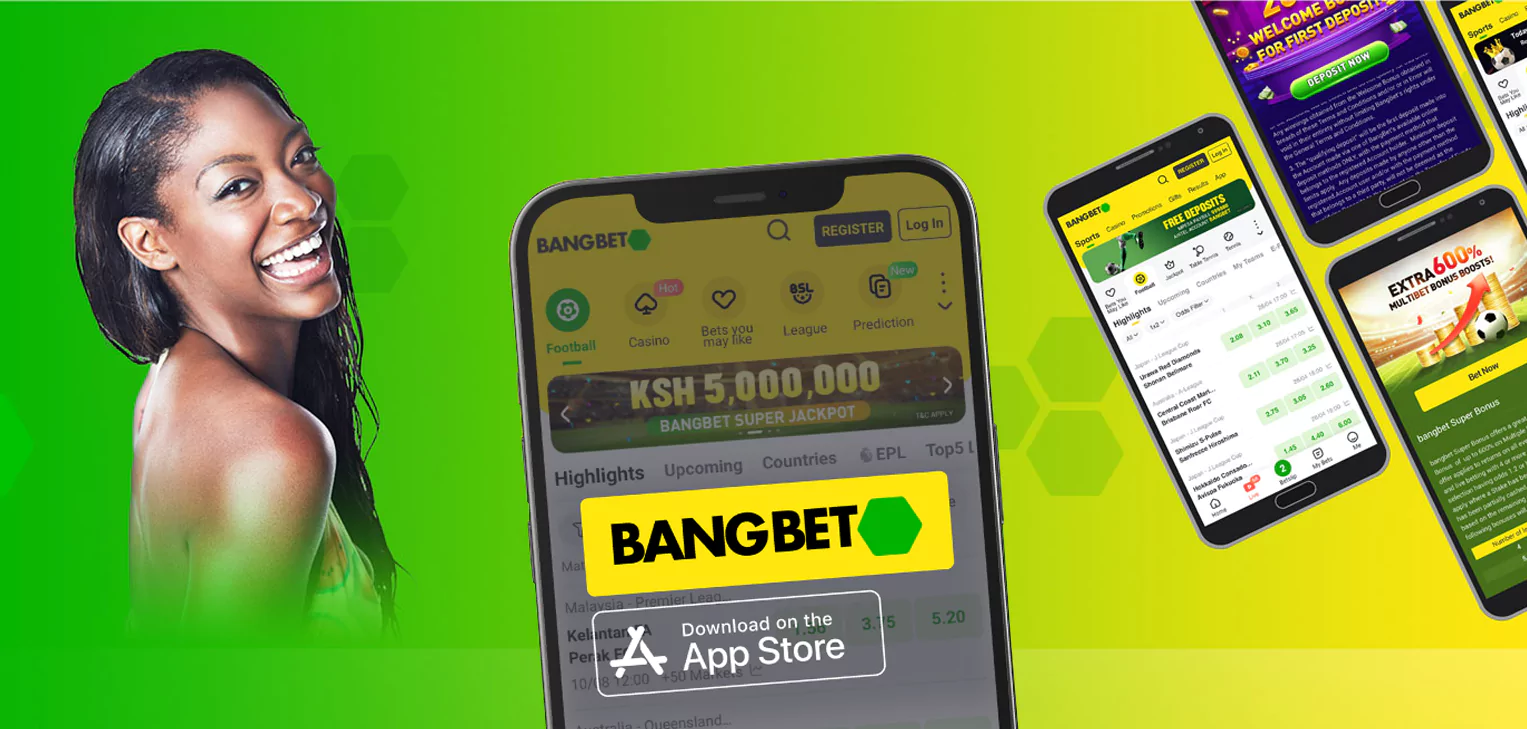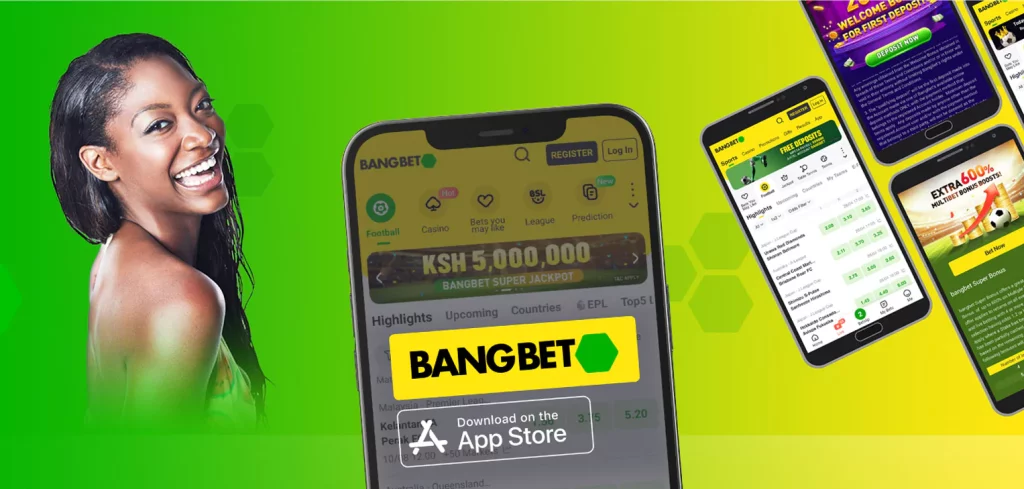 Bangbet understands the evolving needs of its users, offering a seamless experience across multiple platforms. The mobile version of Bangbet's casino is fully compatible with all popular browsers, ensuring accessibility for users on various devices. For Android users, the dedicated Bangbet mobile app is available for devices running Android Version 4.1.0 and above.
To download the app, simply visit the Bangbet website, either on your mobile device or desktop, as it is not available on Google Play.
Embracing the mobile app brings a new level of convenience to your gaming journey. With improved speed and user-friendly navigation, everything becomes faster and easier. The freedom to play whenever and wherever you desire is at your fingertips, granting you unrestricted access to the exhilarating world of Bangbet's casino offerings. Experience the ultimate convenience and take your gaming adventure to new heights with the Bangbet mobile app.
Mobile users are in for exclusive benefits, including a wide range of bonuses and promotions that are unavailable on the desktop version. It's evident that the Bangbet casino team places a strong emphasis on catering to the needs of mobile users, crafting a tailored experience that takes full advantage of the convenience and flexibility offered by smartphones and tablets. With the mobile app and mobile version, you can unlock an enhanced level of accessibility and enjoy the full spectrum of Bangbet's offerings at your fingertips.
Exciting Game Selection at Bangbet: Unveiling the Gems
Bangbet Casino boasts a captivating game portfolio, featuring a selection of popular casino classics, alongside unique and intriguing additions. While the slot game collection is relatively modest, with around 20 titles, each one has been carefully chosen to ensure an exceptional gaming experience.
Players consider various factors when selecting a slot game, such as bonus features, Return to Player (RTP) percentage, and overall quality. However, sometimes it's the theme and design that capture the heart of players.
What sets Bangbet's slot games apart is the inclusion of progressive jackpots, making them an enticing choice. Many of these games offer the opportunity to trigger a life-changing jackpot randomly with any spin. For those feeling lucky, we recommend trying Hot Safari or Gods of Egypt, where the thrill of winning big awaits.
For enthusiasts of table games, Bangbet Casino Kenya presents a few engaging options. Classic Roulette, Blackjack Supreme, Hold'em Poker, and Baccarat invite players to test their skills and strategize their way to victory.
Additional fun games to play
Beyond the traditional offerings, Bangbet surprises players with an array of additional games that pique curiosity. The "Lucky" series, comprising five distinct games, delivers progressive jackpots and unique gameplay. Engage in Lucky Soccer, where scoring a goal secures your triumph, or try your luck in Lucky Champion by placing bets on the winning team.
If you prefer a classic fruit slot experience, Lucky 777 awaits, while Lucky Goal combines slot gameplay with soccer-themed symbols. Lastly, challenge your intuition in Lucky Poker as you predict the next card's color—red or black.
While the popular spin and win game might not be available at Bangbet, we encourage you to explore the enticing offerings at 22Bet Kenya Casino, where you'll find an assortment of captivating spin and win games. Unveil the gems at Bangbet Casino and embark on an exhilarating gaming journey that will leave you craving for more.
Effortless Transactions: Payment Methods at Bangbet Casino Kenya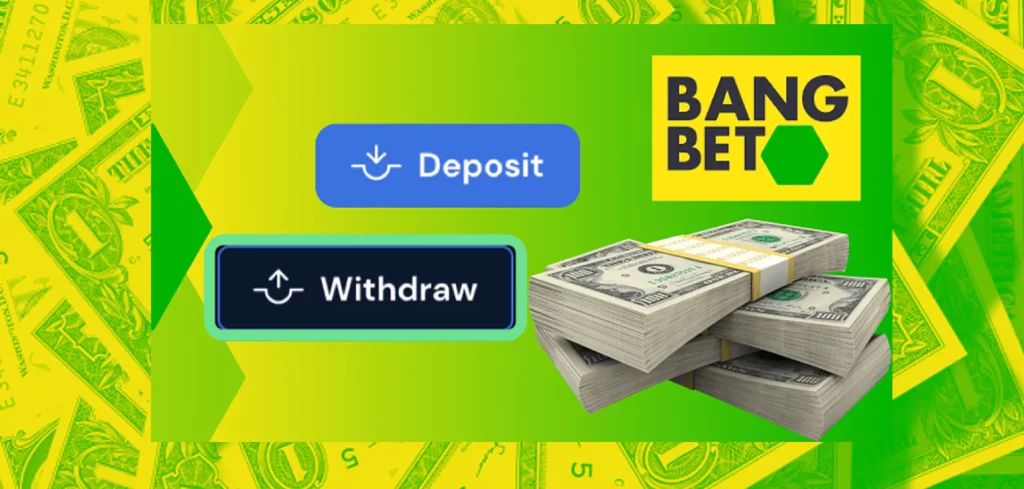 Casino Bangbet prioritizes seamless and convenient transactions, offering two reliable payment methods for depositing and withdrawing funds: M-PESA and Airtel Money. Let's delve into the details of these payment options and explore how you can effortlessly manage your finances on the platform.
To deposit funds using Airtel Money, navigate to the deposit page and select Airtel as your preferred deposit option. Follow the straightforward instructions provided, and you'll be on your way to topping up your casino account seamlessly.
As one of the trusted online casinos accepting M-PESA, Bangbet simplifies the deposit process for M-PESA users. Send an SMS with the format "D#[deposit amount]" to 20829, and within a short period, you'll receive a text message confirming your transaction. Alternatively, access the M-PESA menu, choose Lipa Na M-Pesa, enter BangBet's paybill number (999880), and use "BangBet" as the account number. It's that simple to deposit funds into your Bangbet casino account with M-PESA.
The minimum deposit amount via M-PESA is KSH 1.00, while with Airtel Money, you can deposit any amount above the standard charge. Bangbet Casino has set a maximum deposit limit of KSH 70,000 per transaction.
Withdraw with ease
When it comes to withdrawals, both M-PESA and Airtel Money are available as reliable options. Visit the withdrawal page, select your preferred method (M-PESA or Airtel Money), specify the withdrawal amount, and complete the process effortlessly. Alternatively, you can initiate an M-PESA withdrawal by sending an SMS with the format "W#[withdrawal amount]" to 20829.
For withdrawals, the minimum amount you can request is KSH 100, while the maximum is set at KSH 70,000. Additionally, you can make a maximum of 30 withdrawal transactions per day, ensuring flexibility and convenience in managing your winnings.
At Bangbet Casino Kenya, enjoy hassle-free transactions and flexible payment options, empowering you to focus on the excitement of gaming without worrying about financial logistics.
Responsive Assistance: Bangbet Casino Kenya's Customer Support
At Bangbet Casino Kenya, prioritizing customer satisfaction is paramount. Recognizing the importance of swift issue resolution, the casino ensures that multiple avenues are available for contacting their dedicated customer support team. Whether you encounter an account-related concern, deposit issue, or any other matter, assistance is just a step away.
To cater to different preferences, Casino Bangbet offers various communication channels, including phone, WhatsApp, and email. By providing these options, Bangbet Casino demonstrates its commitment to delivering timely solutions and building trust with its players.
For those using the Bangbet mobile app, an additional perk awaits: the convenience of accessing customer support via live chat. This option has garnered positive feedback, as players appreciate the real-time assistance provided through this efficient feature.
Regardless of the contact method you choose, rest assured that the highly trained customer support team at Bangbet Casino is equipped to handle any type of issue that may arise. They are dedicated to ensuring a smooth and enjoyable gaming experience for all players.
For quick reference and clarification, the FAQ section located at the bottom of the page offers valuable information, addressing common queries and providing helpful insights.
To reach out to Casino Bangbet Kenya's customer support, utilize the following contact details:
Phone number: 0726999882
Email: support@bangbet.co.ke
WhatsApp: 0726999882
With responsive and reliable customer support at your fingertips, rest assured that your concerns will be addressed promptly, reaffirming Bangbet Casino's commitment to prioritizing the needs of its valued players.