Dragon Quest 11 Casino Guide 2023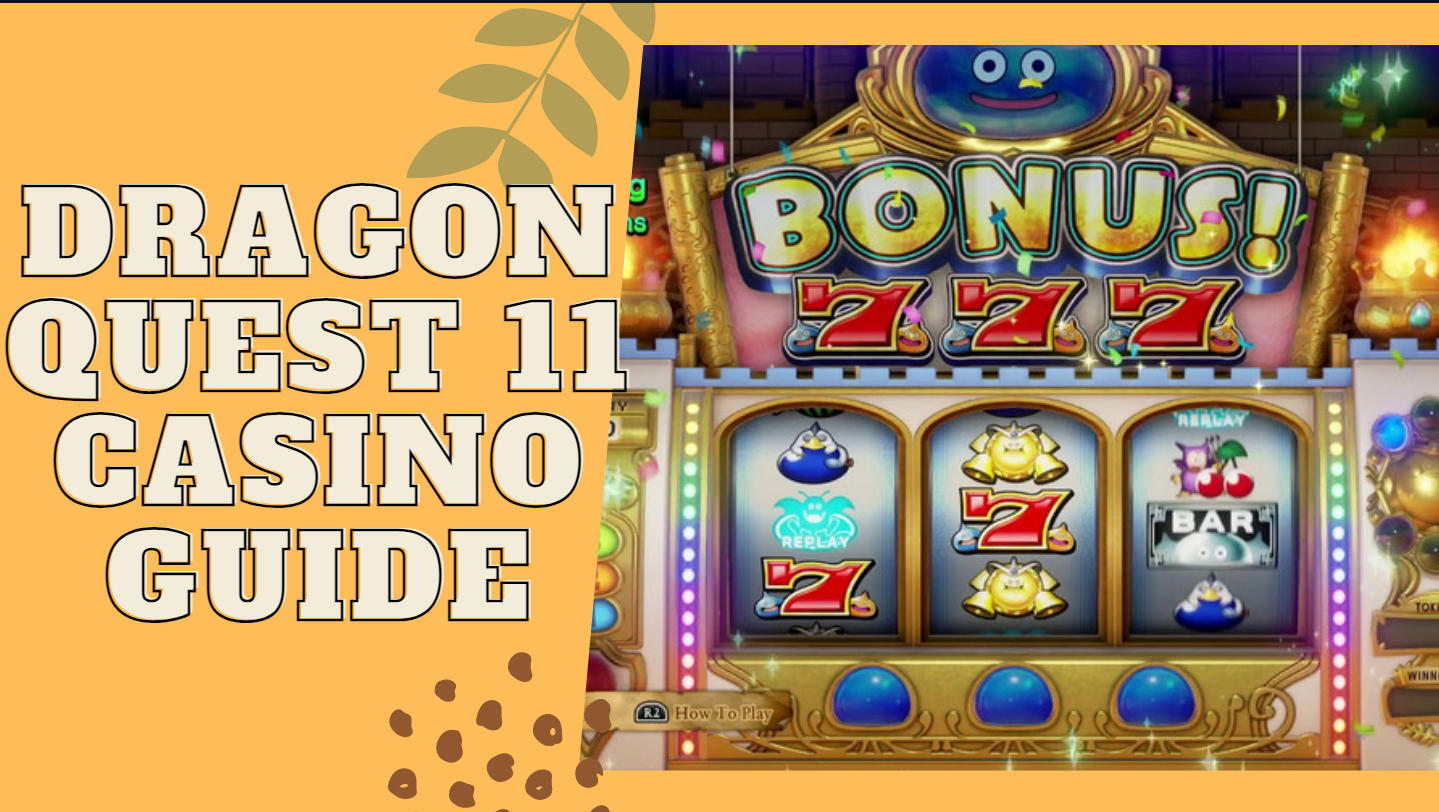 Dragon Quest 11: Echoes of An Elusive Age has a total of two Casinos in the game. The casinos are a great way to get amazing items and prizes that can help you tremendously. Some of these items are not found anywhere but in casinos and they are very overpowered. Dragon quest 11 Casino can be a great cheat for this game if you know how to play casino games correctly. Like every other casino, there is a lot of gambling in Dragon Quest 11 Casino too. You will either lose all your coins or you will win the rarest items ever. However, there is a trick you can use to both win the prizes and not lose all your coins too! Through this Dragon Quest 11 casino guide, we will tell you all the tricks you need to know to win exotic prizes and get rich fast.
Dragon Quest 11 Casinos
Before we jump on the dragon quest 11 guide, let us first talk a little bit about Dragon Quest and where the casinos are found. If you are a beginner who has just started playing dragon quest 11, it might be hard for you to locate the casinos. You will find the first casino in the town of Puerto Valor adjacent to a hotel, and the line of people waiting outside quickly draws your attention to the entrance. It will be accessible to you as soon as you get the ability to sail. In that casino, you will find a slot machine surrounded by people. Using that slot machine, you can send slimes on a quest to win you tokens.
The other Dragon Quest 11 Casino is located in the North of the Dundrasil region in a town called Octagonia. You will be able to find the Octagonia casino on your third visit to it. On your third visit, you will see that the place is now filled with monsters and the upper Octagonia is now a casino.
Dragon Quest 11 Casino Important Tips
These casinos are risky in the same way that real-life casinos are. However, it is still a game and not real. With tricks and cheats, you can win without any loss. The most important thing to remember is to save your game before you spend tokens in a Dragon Quest 11 casino. This way even if you have suffered a great loss, you can just load your game to when you did not spend your tokens.
The key to win in casino games is having patience, luck, and money. These are the three most important things to remember: start betting or gambling in any casino, real or virtual. According to our Dragon Quest 11 casino guide, the maximum you should spend in the casinos is 4000 coins, and the least you should spend is 2000 coins. Anything else could be a waste of time and cash. With this quantity of coins, you'll be able to purchase 100-200 tokens, which is all you'll need here.
Types of Casino Games
There are three main types of casino games to win prizes. Each game has its pros and cons. However, some games have more cons than pros. So, it is important to know that game you should be playing to save your time and energy.
Poker
Poker would be a good choice only if you have some beforehand experience in playing casino games and know how to card count. If you do not know either of these, then it is probably a waste of time for you. It requires too much energy and does not even provide a good item to make up for your lost sanity. Compared to others, playing poker to get super-rich is the worst choice.
Roulette
Second, comes the roulette. Roulette is one of the most favorite casino games for players. You get to choose a tile of a specific color, number, or both. It gets really boring and your hands might get tired pressing the buttons, but you can get instantly rich if luck is on your side, you can get instantly rich!
Slots
Third and the last one is the slot machines, the most preferred casino game. Not just because it requires less energy but also because of its amazing advantages. The metal mode of the slots will double your tokens from the last mode. Just one or two tries and you will notice that the slots are much easier to use and win prizes. As if the metal mode and rigged favor weren't enough, the staff in the area also provide wonderful and trustworthy winning tips!
Puerto Valor Casino Introduction
Honestly, the Puerto Valor casino has very few good items. The only items that are actually worth it are the Jade bunny suit which looks great and is loved by many players, and the Platinum Power sword. Platinum Powersword +3 lasts till the end of Act 2. Even then, it is better than many other swords. Below, you can check the list of prizes you can win from Puerto Valor casino and decide if you would like to get any of these.
List of Prizes in Puerto Valor Casino
Platinum Powersword (100000)
Lightning Lance (75000)
Platinum Sword (50000)
Spangled Dress (25000)
Elevating Vest (10000)
Arriviste's Vest (10000)
The staff of Sentencing (7500)
Infernails (7500)
Yggdrasil leaf (5000)
White Shield (5000)
Mercury's bandana (2500)
Down the Rabbithole (500)
Octagonia Casino
You will immediately notice that it is very easy to win prizes in Octagonia casino compared to Puerto Valor casino. This is because when the casino is filled with monsters the prizes are not of good quality. Once you remove the monsters the difficulty to win increases along with the quality of items. Kill every monster then enter the VIP room with the Love Potion.
List of Prizes Before Defeating Monsters
Love Potion (500 Tokens)
Medicinal Herb (25000 Tokens)
Cypress Stick (50000 Tokens)
Horse Manure (100000 Tokens)
Boxer Shorts (500000 Tokens)
Magic Water (1000000 Tokens)
Final Prize List
Love Potion (100 Tokens)
Sage's Elixir (1000 Tokens)
Bow Tie (3000 Tokens)
Your Very Own Aegis of Illusions (5000 Tokens)
Molten Globules (20000 Tokens)
Cheat Sheet (30000 Tokens)
Imp Knife (60000 Tokens)
Scandalous Swimsuit (70000 Tokens)
Fire Ball (80000 Tokens)
Twinkling Tuxedo (200000 Tokens)
Shimmering Dress (200000 Tokens)
Happy Hat (300000 Tokens)
Gringham Whip (7500000 Tokens)
Tricks to Win More in Dragon Quest 11 Casino
Playing casino games requires motivation, luck, and a whole lot of patience. If you just play randomly without any tricks, saving and then reloading when lost, you will not be able to reach your goal even, if you play for an entire day. To win exotic prizes and get rich fast, you need to know all the tricks that we provide here in the Dragon Quest 11 casino guide.
Start With 200 Tokens
200 tokens are all you are going to need to start, using anymore will be a foolish choice. Now, take these 200 tokens and start playing poker. Poker is not a preferable choice for getting rich but it is a good start-up game. The double-up of poker is mostly rigged in your favor so you will easily be able to increase your token. Once you have turned your 200 tokens to 2000 or 3000, go and save the game before continuing further.
Getting Rich Using Slots
Slot machines are by far the best casino game to get rich. As we discussed before, the metal mode and other advantages make slots a great machine to use.
Go to the 10-tokens slots along the back wall, with 2000 – 3000 tokens. The more tokens, the better your chances of winning in slots become. Play until you have reached your desired goal. In two to three hours, you should be able to earn 100k or more. You'll almost always come out on top if you start with enough tokens. Just save some money before you go in case you get really unfortunate, but you'll generally make more money than you lose as long as you have enough coins to stay in for long enough.
The trick to Win Roulette
The key is to just wager on one number and one number only. The more numbers you wager on, the less probable it is that the ball will land on that particular number. After roughly 30 attempts, you will never get it to land on a third of the numbers you bet on.
Switch the tables and bet ONCE on a single number; there's a good chance you'll get it right the first time.
Keep betting on the treasure chest and only the treasure chest if you want the treasure chest. In just a few spins, you'll have it. This is a proven and true strategy that works 75% of the time.
More bets on different numbers equal a lower chance of winning. Please keep this in mind.
Conclusion
This Dragon Quest 11 Casino guide can get you amazing prizes in just 2-3 hours of grinding using the tricks told here and they last for a long time too. Hopefully, this guide has helped you in getting the item or prize that you want. Good luck with your journey!
Read more: How to Make Sweet and Tangy Lemon Drop Shots